Harmonious Music Studio is located in the heart on the Dunbar Village in Vancouver Westside. We provide private and group piano lessons for young children.
For beginner students, we offer the Music for Young Children (MYC) program. It is a parent-participation program in a small group setting (3-6 students in a class). We meet once a week for an hour and we do a variety of musical activities – keyboard, creative movement, rhythm, ear -training, sight reading, music theory and composition.
Students who study the Music for Young Children program will not only develop their piano skills, the variety of music activities will also help children practice important skills, including thinking, language, motor coordination and understanding emotions.
For students who have some prior music knowledge, we provide private lessons for children ages 6 and up that accommodate your child's level and interest. We provide preparation for RCM Piano Examinations for all levels.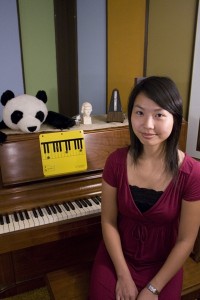 Melisa Chui – Owner and Teacher
I believe that Music for Young Children (MYC) is the best music program for young children. I have been teaching the MYC program for ten years. I am a RCM Certified Teacher – Advanced Specialist and played piano for over 20 years. I love working with children and hold an Early Children Education certificate. I am glad to share my love of music to young children in a fun and nurturing environment.
For more information about the MYC program, please visit Music For Young Children Program.
Testimonials
You are the Best Piano Teacher in the world! (Jonah, age 6)
Thank you for making piano lessons so fun! (Ian age 9)
Thank you for being a very good piano teacher. (Hugh, age 12)
Thank you for doing such a wonderful job teaching my children to love learning music. Your dedication has cultivate the desire and patience to learn to play piano in my boys. Thank you! (Veronique, mother of Ian and Hugh)
Seven years ago we joined your MYC class and the MYC musical journey has been a pleasure. Thank you for your dedication and gentle manner with our kids. We enjoyed the group classes and your support with the private classes too. We know both of our children have a solid musical foundation thanks to you! (Heather, mother of Max and Holly)
As my daughter progressed through MYC it was a joy watching her learn to play the piano and read music. Melisa is a caring, calm and patient teacher who always brings a great sense of fun to the lessons. Her studio is a wonderful environment for young musicians. Melisa provides a good balance between playing and theory and my child has developed a strong musical foundation and, more importantly, a love of music. (Geoff, father of Zoe)
For inquiry about our Music For Young Children program or about our Private Piano Lessons, please Contact Us.